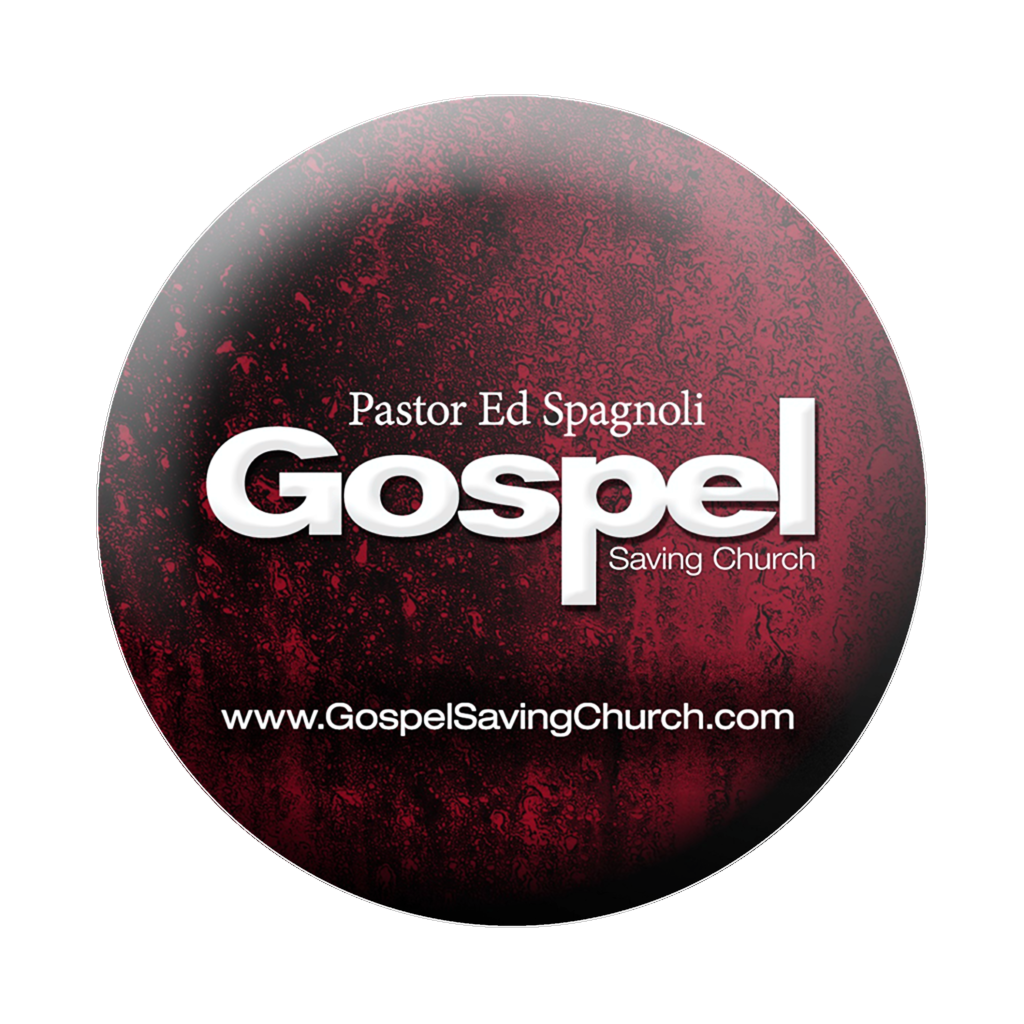 A letter from the Pastor:
Hello, I'm Pastor Ed Spagnoli, and I want to personally welcome you to Gospel Saving Church.
We are one of God's true churches of these last days.
I say this because a large majority of the churches in these last days have fallen into the great apostasy spoken of by Paul in

2 Thessalonians 2:3 ~

Let no one deceive you by any means; for that Day will not come unless

the falling away comes first,

and the man of sin is revealed, the son of perdition.
Gospel Saving Church was started because God still desires the undistorted/uncorrupted true light of His Word to go forth into this dark apostate world, because

God still loves people and desires all men to be saved and to come to the knowledge of the truth ~ 1 Tim 2:4.
The true churches of these last days are few and far between, but I'm so thankful that you are here. God brought you here because of His mercy, and I hope you stay a while.
Now all of that said, I must tell you, that as a result of God's pure truths being spoken and taught here, I must warn you before you go any further,
THIS IS A DANGEROUS WEBSITE.
Why?
My sermons will not tickle your ears with smooth and fancy apostate teachings or doctrines. I teach God's Word, simply, exegetically, and powerfully from the Bible, verse by verse, and book by book. For, I am committed to you and to God, to teach His True Biblical truths to this world despite the cost. Teaching without compromise has cost me much.
Plus: You will not only hear the hard truths of God's Word here, but:
1) If you are a true Christian: I will challenge you in your faith in Christ to walk more and more obedient to the words of Jesus Christ as a daily practice, to obey them and keep them. And I will challenge you to walk more and more Godly in Christ Jesus as an everyday practice, Just as Peter commanded the real Christians in his day.
1 Peter 1:13-16 ~ Therefore gird up the loins of your mind, be sober, and rest your hope fully upon the grace that is to be brought to you at the revelation of Jesus Christ; 14 as obedient children, not conforming yourselves to the former lusts, as in your ignorance; 15 but as He who called you is holy, you also be holy in all your conduct, 16 because it is written, "Be holy, for I am holy."
The very same way that John said true Christians would do in 1
John 2:6 ~ He who says he abides in Him ought himself also to walk just as He walked.
Or:
2) If you are not a true Christian (even though you may think you are): God's Word through His Holy Spirit via my mouth will expose this to you, and you will be faced with the true reality of what God desires from you so that you may become a true convert to the Christian faith, or so that you may become a true born-again follower of Christ Jesus and saved from God's wrath and your sins.
Part of the apostasy today is that, the church as a whole, has taught a false way for people to be saved. As a result of this, the majority of those that think that they are saved are NOT really born-again or saved, yet they think they are.
Jesus Christ spoke of this in Matt chapter 7:21-24 ~ "Not everyone who says to Me, 'Lord, Lord,' shall enter the kingdom of heaven, but he who does the will of My Father in heaven. 22 Many will say to Me in that day, 'Lord, Lord, have we not prophesied in Your name, cast out demons in Your name, and done many wonders in Your name?' 23 And then I will declare to them, 'I never knew you; depart from Me, you who practice lawlessness!'
Christ was very clear there that there would be MANY that would come to Him on Judgment day proclaiming Him to be their Lord, because they had proclaimed Him Lord while they were alive. Yet, sadly He tells them to depart from Him because they DID NOT do the will of the father.
Now, who calls Jesus Christ Lord? Of course, ONLY someone who believes with all their hearts, that they are His follower and hence saved and heading to Heaven when they die to stay?
But again, sadly He says in Matt 7 that MANY would come and call Him Lord, believing themselves saved and born-again people ready to get their spiritual journey started with God in Heaven, yet He sends them away and tells them they will not be coming into Heaven. He casts them out. OUCH!!!
So, if you continue on this website, be ready for the brutal truth of God's Word.
We DO NOT accept or teach Arminianism or any of the 5 points of Calvin here. And we especially DO NOT teach OSAS or (unconditional once saved always saved/Perseverance of the saints) as truth in this place.
I cannot teach any of these devilish doctrines as truth because they are deceptions from the very heart of satan himself. These false and satanist doctrines are partly the reason we are even in the great apostacy today.
All that said: I hope that you stay on this website and come to our church, and either learn how to better obey the Saviour more and more each today, if you are His spiritual child. Or, if you don't belong to the Saviour, then I hope you start your journey with Him today. You can learn how to do this in any of my sermons. I have posted one of these sermons above this letter.
Thank you for your time, and may God richly bless you as you diligently seek Him. Hebrews 11:6.
I hope to see you in Heaven some day.
Love Pastor Ed